When the Berry Bypass officially opened in July 2017, there were a mixture of feelings in the local area. A high volume of traffic was now being diverted around the small and quaint south coast town, which for years had been known as a routine stopping point for visitors wanting to buy a gift, grab a coffee or donut.
For some this may have been all doom and gloom, however Berry Mountain Cycles were one of the businesses in the area who made a focus, in the years leading up to the bypass opening, to do all they could to not be impacted by this uncontrollable environmental change in their area.
Through community building, sharing expertise and bringing together like-minded people, Paul Traynor and his partner Megan have created a loyal and returning clientele. Their community has continued to support their business through the infrastructure adjustments in the area.
Rewinding several years, Paul and Megan were avid outdoor enthusiasts and through their passion of cycling identified a gap in the local market to sell and service bicycles.
Having a British background, Paul embraced to the long loved Australian attitude of 'giving it a go' and put everything he could into creating what Berry Mountain Cycles is today.
Business plans, bank loans, sleeping in the shop during the first week (no security installed!) were all initial stepping stones along the way that eventually lead to a successful business that is now turning over a million a year gross and has a dedicated local following.
Paul and I sat down to talk business plans, bank loans, setting up shop, capturing the emotion of their customers, social media and connecting with people who share the same interests as them. We cover a lot!
What did you get out of this episode? Here's what I learnt;
1. Developing a Business Plan – If you're going to borrow a significant amount of money from a financial institution, you need to prove to them that you are financially viable for them. Its not an easy process and that's for a reason. While it can be overwhelming and potentially be a complicated process, it is far from impossible. It also gives an opportunity to be disciplined early, give clarity of exactly what you are planning to do and ensure that the emotional element is stripped away from your business concept and to ask the hard/critical questions.
2. Embracing Digital – Berry Mountain Cycles use social media and the internet to build awareness in their area and connect with like minded people. By being genuine and showing people what they are all about, the business has been able to build trust and loyalty which has then transitioned into sales and retention. Taking a warmer approach of awareness rather than the traditional hard sale.
3. Taking photos of customers with new bikes – Its like a car dealer who delivers a new vehicle with the large bow, flowers, champagne or a cover to unveil. It dramatises and celebrates this big moment for the consumer. Paul takes a similar approach by taking photos of customers when they take delivery of their new bike. Its a special moment and by taking a photo and posting to social media, the business is celebrating with that customer. More importantly, its capturing that emotion that's infectious and will be shared with others online.
4. Game plan for worst case scenario – (See Tim Ferriss and 'Fear Setting') Part of the business plan as noted above is about understanding what would happen in the event of a disaster occurring. What would you and your business do in the event of a worst case scenario. This is important to do regardless of whether you are putting together a business plan or not as it's a way to build some mental durability and reassurance that if all hell breaks loose, you have a plan or at least know deep down that you can get through it one way or another. Wouldn't that take a load off?
5. Build Community of like-minded people – Riding days, community groups, trips overseas. The business has been able to tap into a niche interest and bring a group of people together who share a common passion. Not only does this keep life enjoyable, but it builds support for their business and creates a centralised place for like-minded people to not only purchase goods and services, but an educational and recreational/social place that the community congregate around.
6. Adjusting to unexpected changes – Sometimes external factors outside of our control can change that can significantly impact a business. In a lot of cases however, there are visible signs early. Being able to identify and understand these circumstances gives an opportunity to create flexibility and adapt to changes.
In Berry, having the new bypass open has removed a lot of traffic through the main street of town. The change has given opportunity to businesses to evolve, update and adjust to the change. Paul has not been negatively impacted by the bypass and has had several years of notice to make any changes needed to accommodate. Using the previous scenario of thinking about your worst case scenarios will also help you identify and see changes and challenges before they happen.
Show notes
Follow Berry Mountain Cycles via Main Website | Facebook | Vimeo | Instagram |
Berry – 5/65 Queen Street, Berry NSW 2541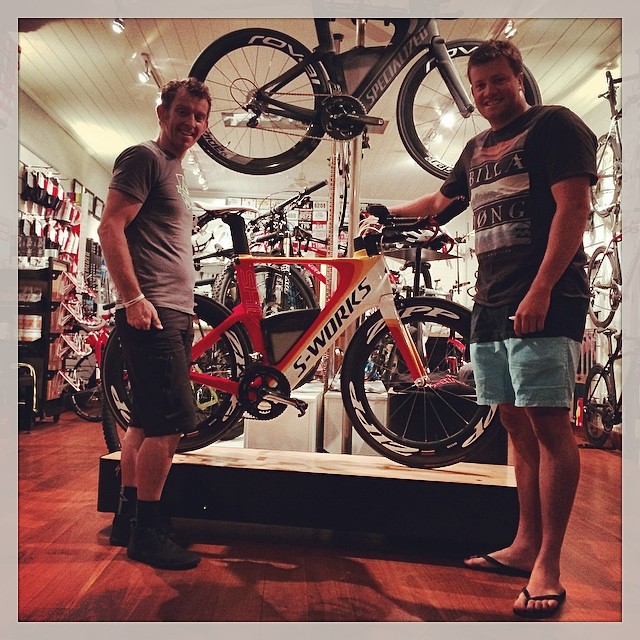 Owner Paul Traynor with customer Stevo