Crosdales BBQ is the ultimate side hustle. When people have plans to start their own business, some of us look to the future and envision a day when we will be able to do it full time and nothing else. Owner Russell Crosdale however has a different approach on it all.
Having been swooned by the flavours and culture of BBQ cooking while living and working as a cook in North America, Russell wanted to bring his experiences back home and continue to enjoy cooking this food which he had developed a real love of.
With a traditional job that was already providing what he needed, Russell launched Crosdales BBQ as a weekend passion business that has grown in demand through the reputation carved out of quality American Authentic BBQ food. So much so that at the time of having our chat, Crosdales BBQ was booked out every weekend for the next 4 months.
When asked whether there would be plans to extend to a full time gig, Russell was quick to acknowledge that his main focus is to nurture the passion and not compromise it. The current balance between a Monday to Friday job with his weekend meat fests tick all of the boxes and keeps life exciting.
Of course, nothing is ever ruled out but why rush to expand if you absolutely love the way things are?
You could sit back and relax on your weekends or you could get out there and immerse yourself in what you love and make some extra money from it. Crosdales BBQ is a pretty legitimate side hustle!
What did you get out of this episode? Here's what I learnt;
1. Join an association or industry group – Starting your own business can be seen as a lonely road but it really doesn't have to be. By joining an association or group of like minded individuals in your same line of business, it can help you grow by sharing best practices, getting insights and staying up to date with the latest changes. Best of all it can provide you with inspiration and reassurance when times get tough.
2. The story counts – One of the things that really grabbed me about Crosdales BBQ is Russell's story which he shares on his website and through his marketing. When you learn about the journey, the purpose and the 'why' behind Russell's love for American BBQ, you can't help but feel more connected personally to the brand and want to support it. These days this is marketing 101 but your story is still underused when promoting your business. Make sure you let everyone know the origin story, your passions and why you are doing what you are doing. It's a fantastic way to build that loyalty and support.
3. Gets hands on and talk about it – Russell offers food delivery to events, but he always puts preference on being there to serve and talk to everyone about the food. They get hands on and in front of people with their food to ensure that they can cultivate an appreciation of how the food is cooked, that origin story and be there to answer any questions or take advantage of new opportunities. The ultimate business card!
4. Turning a frown into a smile – Russell has had years of customer service experience and explains that the dissatisfied customers are just as important if not more important then their satisfied ones. When a negative review or comment is left somewhere, Russell ensures that he is reaching out to understand the criticism and also take advantage of the opportunity to turn an unhappy customer into an advocate.
Follow Crosdales BBQ via Main Website | Facebook | Instagram |
Location – Glossodia, Hawkesbury NSW 2756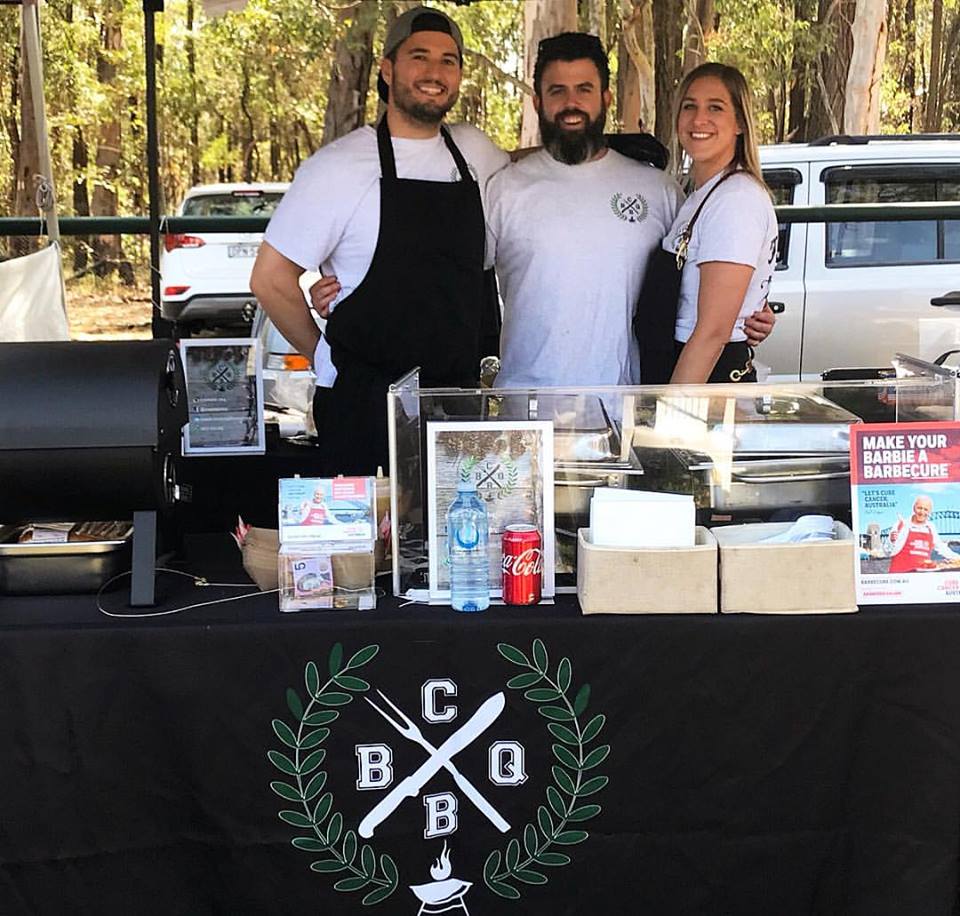 Russell Crosdale (Centre)